Everyone has writers who they love. As a writer, you have to start paying attention to why you love some writers more than others. Is it their style? What they write about? Who their characters are? How do they make those characters? How do they take you to that place? What, exactly, keeps you reading—a constant cliffhanger, a secret the character has, an unreliable narrator?
For me, it comes down to details. If a book is full of delicious, tiny details that reveal amazing, important things about life, it takes me into the book, and I never want to stop reading. Here are three of my favorite books that revolve around epic, infinitesimal detail:
A Tree Grows in Brooklyn (Betty Smith): I read this several times when I was younger, and I just reread it again last year. I was amazed at how I couldn't stop reading it. It was the details: the caul of a newborn sold to a sailor, the paper collars Francie buys for her father. For a week, I lived in Williamsburg (yes, the now-hip neighborhood in Brooklyn) with a poor Irish-American girl growing up in 1918. The dialog is also amazing—Smith was also a playwright. This book is perfect: the family history, the tension between autonomy and circumstance, the inner life of a teenager becoming a woman.
The People of the Book (Geraldine Brooks): Brooks started out a nonfiction writer (her first book was Nine Parts of Desire, a journalistic account about women living in in different parts of the world that practice extreme Islam. Also amazing.) and her fiction is as well-researched as her nonfiction. The People of the Book follows the fictionalized history of a real illuminated Hebrew text. Each person who owns the book has a past, a conflict, and a future. We get only a glimpse. I read this book, loved it, and read it again to figure out why. I realized that, once again, it's the immense amount of detail that is woven in without our noticing it. Sarajevo is illuminated through dinner at a restaurant and a walk to a bakery; medieval European Jewish life is drawn through a family's hustle to find a suitable gift for a family friend. This makes it sound like a history book, but it's not—every historic episode is a massive cliffhanger, just resolved enough to allow us to move on to the next.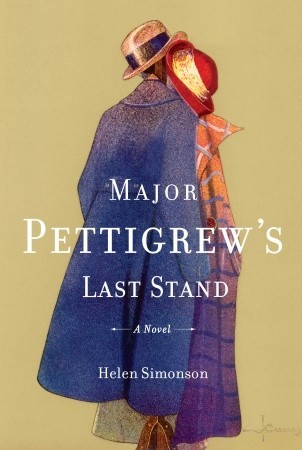 Major Pettigrew's Last Stand (Helen Simonson): I just read this, and I'm still conflicted about how to feel about the (slightly racist?) people in the story—but they are so well-developed and true to life that their sentiments can't really be attributed to the author at all. Major Pettigrew is a curmudgeonly, inspiringly sarcastic old man, and his sensibilities about what is right and wrong are shared by a strange cast of characters: a Pakistani shop owner, her bitter nephew, and a strong-willed dancer who is a single mother. The things that Major Pettigrew notices on the morning after his brother dies are heartbreaking: he is sitting in the red lumpy chair that he hates to sit in, drinking from a cup he uses to hold his toothbrush. As soon as I finished this book, I started reading it again because it was so damn entertaining.
Reading shows you how to do things as a writer. If you read carefully—and by carefully, I mean occasionally asking yourself "Wait, why do I like this? Why do I hate this?"—you will discover not only what you love about these authors but what you love about your own. It's amazing, and it's true. Details are what I try to bring out in my own essays and stories, and details are what get things done in my work. What's the special stuff that gets things done in yours?
*If you liked this post, you might like my monthly e-zine, Greetings from Bookland! I'll send you a mini writing lesson + prompt each month–plus you'll get my guide on How to Be a Writer! Sign up here.